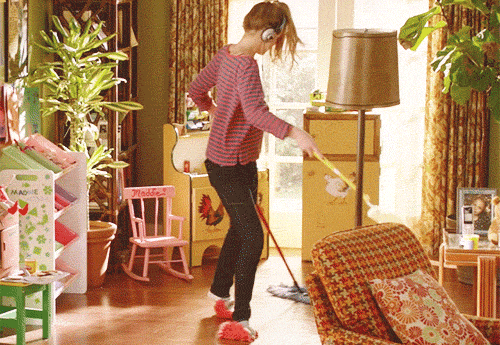 Every December, I do a thorough cleaning of my place. It's a little weird and probably a little OCD but it always feels really good and calming like what I described in Midnight Madness. In a weird way, I want Christmas and the New Year to meet me in a tidy and spotless home. If something's broken, it goes into the garbage. If something is donate-able, I take it to the Salvation Army, if it's too big to move, I put an ad on Freecycle to give it away for free.
2016 was what I now call, "the year of the flood" when I had to live in a confined upper floor for most of it. Not fun, not pretty and I even ran away a twice. But I muddled through it. And even though I've always lived as clutter-free as I can, when the water ran dry and life went back to normal in December, I realized that I could crank up the volume on the whole "minimalist" thing…
In 2017, I'm going "deep" – drawers, clothes, books, closets, tools, paper files – just call it "The Fresh Start / Purge Project".
Task #1? Tackle the file cabinets as a 30 day shred.
For the past few years, I've slowly been transitioning to a paperless system so physically purging through my files wasn't stressful.
Old credit card statements and unimportant receipts? Toss. Important invoices, warranties and manuals? Keep and scan into Evernote later. Magazine and newspaper clippings? Read them now and toss.
It wasn't hard going through every single document in my file cabinets – I created three huge bags of paper quickly. Hard was the time it took to SHRED all that paper before throwing into my recycling bin.
3 bags morphed into 10 bags of "shreds" like this…
It took me 3 curbside collections to get rid of it all. A little bit of shredding in the evenings while listening to a podcast or with Netflix on and I'm finally done! A fresh start and so much space in my file cabinets again.
Lesson learned? If it's important, keep it but make a date to scan it as a back up and then toss it.
Tell me, do you suffer from the clean disease too? Are you a minimalist?
Image and content ©2017 Marquessa Matthews. All Rights Reserved.
Save
Save
Save
Save
Save
Save
Save
Save