Just leave me the hell alone.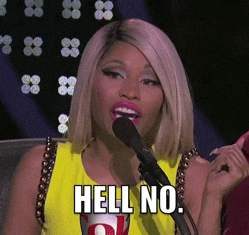 You outstretch your nasty hands, touch me without asking, sometimes even go so far as to squeeze me. And when you do, it is always way too hard.
What the f*** is that all about?
Look, I understand that it's Friday afternoon and that you are on your way home. I see that bottle of wine in your hand that you are going to pop open the moment you get home and slip into something a little more comfortable. You would like to start your weekend off right and taking me home would do the trick.
You could break me off. Piece. By. Piece.
Because I know I'm hot.
I looked enticing enough for you to approach me in the first place, right? Especially when I'm sitting here among all of these less traditional options.
But then, you have the nerve to tell me that I'm not hot enough for you to take home…

Fine. Like I said, just leave me the hell alone.
You aren't the first person who has groped me this afternoon and you won't be the last.
Someone will be forced to take me home if I am the only one left here before the shop closes.
I must admit, I am very, very guilty of groping a baguette or two on a Friday afternoon. 🙂 
All Rights Reserved ©2015 Marquessa Matthews.
Note: On a typical Montreal Friday afternoon, many commuters taking the train or bus back to the suburbs -grab a bottle of wine from the SAQ (liquor store), some cheese (Brie, Camembert) and stand in line at their favorite bakery for a baguette or pastries to take home for the weekend…#Montreal!


Photo credit: Julie70 / Foter / CC BY-NC-SA
©2016 Marquessa Matthews. All Rights Reserved.
Originally posted on August 6, 2015.
Save
Save
Save