"What kind of garbage is this?"
When I was 15, I made the mistake of sharing a short story I had written for my high school English class with someone close to me and those were the exact words that stuck to me like glue.
The pride I felt about the story I had written disappeared like a puff of smoke in the wind. I was completely embarrassed and simply wanted the floor to open and swallow me up. That was the day that I learned to never share my writing with anyone unless it was for an assignment or my own personal and creative enjoyment.
The me back then wasn't able to brush it off or formulate a witty response to counter that negativity. I simply took the hit and allowed my feelings to get hurt. I never even thought about taking the grade I got for that assignment and shoving it into that person's face because I allowed that negativity to steal the joy from me:
Of course, the me of years later would have reacted A LOT differently with that person.
Though the me of today would have a laundry list of slick yet bitchy comebacks, I wouldn't even bother wasting any of them such negativity and neither should you.
If you love to write and/or blog, who cares what others think about it?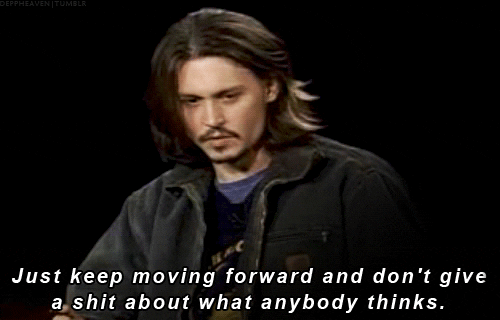 It doesn't matter who thinks your writing or your blog is read-worthy.
It doesn't matter if you only write or blog sporadically.
It doesn't even matter if someone leaves a negative comment on your space.
Forget the haters.
What matters is that YOU are enjoying your writing and/or blogging.
And that is truly the only thing that really matters.
Bisous,
M