As I sipped on that delicious thirst quenching coconut water, I was in no rush to fetch my luggage that was the last one spinning around and around on the carousel waiting for me to rescue it.
I wanted to savor this moment. And savor it is exactly what I did…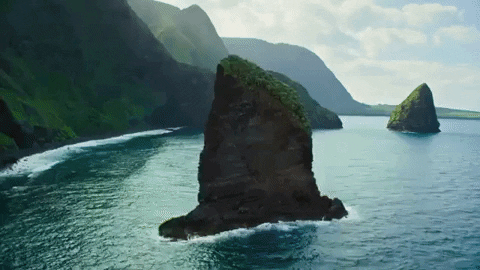 I was literally floating in the white billowy clouds above rolling green hills that made me think I was lost in an episode of "Lost".
With lush mountainous terrain, powdery blue skies, rolling peaks and valleys, crystal blue green waters beneath me, I was mesmerized by the view through the plane window. It was so beautiful that I almost had to pinch myself and my heart kept skipping beats with excitement.
Why had I waited so long to do this?
I had spoken to Kevin just before boarding my flight and he sounded overjoyed for me. I was still smiling at his words – "Have fun Mom. You deserve it. Stay safe and text me every few days so that I know that you're okay. And bring me back some Macadamia nuts."
I was still flying on cloud nine and was almost at the baggage carousel at the Honolulu International Airport when Hannah called me.
"Where the hell are you? I'm standing outside the house and my keys aren't working! You need to get here right away. I'm having a party tonight and I need some of my CDs."
Sometimes I couldn't believe that I'd given birth to Hannah. No, most of the time I couldn't believe that I given birth to Hannah. My twins couldn't have been more different but that was mainly due to my ex-husband spoiling Hannah rotten after we decided to divorce. Kevin had been smart enough to see through his father's acts of strategic generosity but Hannah had chosen to turn a blind eye and work the situation to her advantage. Hannah was definitely her father's daughter – always was and always would be.
Knowing that it would take a while for the luggage to arrive, I sat myself down at a coffee shop near the carousel area with the intention of getting a coffee after hanging up with her.
"I changed the locks and that's why your keys aren't working Hannah."
"Why the hell would you go and do that without telling me first?"
"Because you don't live there anymore. I gave the realtor a new set of keys so that she could do some showings while I'm away."
"What?" Hannah freaked out. "What the fuck are you talking about? You're selling our house?"
I usually scolded Hannah on her use of profanity around me but I couldn't be bothered. Most of the time I knew that she did it on purpose to annoy me but I was tired. Tired of the words she used, the lack of direction in her life and her lack of behavior – none of it was  my responsibility anymore. As I listened to her scream at me, I kept my eyes peeled for my luggage as bags started to spit out of the mysterious black hole above the carousel. Passengers immediately began to jockey around each other as if their feet were on fire.
"I'm not selling our house. I'm selling my house. The one you chose to move out of last year."
Because Hannah thought she could throw parties, come and go as she pleased, and make demands of me when she was still under my roof, I had put my foot down and given her an ultimatum – follow house rules or leave. After running to her father, she had gladly thrown my ultimatum in my face when her father promised to pay for an apartment. Even so, I would still let her guilt me into lending her money for stupidities that she should not have been indulging in.
"Your house? You mean Daddy's house. He paid for it. You never worked a day in your life. All you did was stay at home on your ass all day doing nothing."
No key to the house meant that Hannah couldn't raid the pantry, my liquor cabinet or get access on a whim. But not anymore – I had let her squeeze the last drop of motherly guilt out of me for the last time. I no longer had time for that game.
This was not the way I had planned to start my month long dream holiday in Hawaii but I'd make it the last negative glitch before I stepped foot in my hotel in Waikiki.
"Hannah, if it weren't for me taking care of all of you the way that I did, 24 hours a day, 7 days a week, 365 days a year, your father would not have been able to buy this house. I more than worked for that house little girl and if I want to sell it, I don't need your permission."
"Whatever Mother! I'm going to tell Daddy what you're planning on doing. But right now, I need my CD collection so you need to get to the house asap."
I shook my head in disgust.
"You'll have to live without them. I'm in Hawaii and won't be back for four weeks."
I heard Hannah gasp.
"Hawaii? What the fuck are you doing in Hawaii? It's not like you need a vacation! You barely work with the money Daddy gives you."
My blood began to boil. I wasn't sure of the last time I'd felt anger bubble in my throat that way.
"I'll tell you what I won't be doing Hannah. I won't be enabling you and your ungrateful attitude anymore. If your father wants to, that's his problem but the buck stops here with me right now! You think that you can behave like a brat all the time just because your parents got divorced? Boo hoo hoo, poor you! You're not the first and you won't be the last child to have divorced parents. You're living on your own with her latest boyfriend and you shouldn't even have stuff left at the house. Don't you think I realize that you only call me when you want something from me or when I'm useful to you? Does that bother me? Of course it does but I don't say anything because I don't want to suffer through your rants. But no more. When I get back, I'll pack up what's left in your room and I'll tell you when you can pick up all of your stuff up."
I couldn't catch my breath after that mouthful of bitterness and there was dead silence on the other end of the line.
Had I shocked some sense back into Hannah's tiny brain?
"What are you going to do there for four fucking weeks?"
"Well, according to you, I'm well-versed at sitting on my ass and doing nothing all day so that's exactly what I plan on doing. I plan on sipping on coconut water, eating pineapples, taking lots of photos and watching people dive off cliffs. Talk to you in a month Hannah."
And with that, I hung up on her and dropped my cell into my purse. I suddenly felt like I could breath more deeply.
Before I made an attempt to get up and order a coffee, a real coconut with a straw suddenly appeared on the table in front of me. When I looked up, the coffee shop attendant was standing next to me.
"I didn't mean to listen in on your conversation but you were talking to your daughter, right?"
I nodded, highly embarrassed at being overheard.
"Yeah, I feel for you. I have one of those at home and I admire your spirit. I hope that one day I can learn to put my foot down like that with my daughter. I need to borrow your backbone."
The coffee attendant pushed the coconut towards me. "I can't help you with the other things I heard you mention but I can get you started with sipping on coconut water. It's on the house."
I smiled sheepishly and thanked her.
"Aloha," she said, nodded and walked back to behind the counter.
I couldn't help but contain my smile at the act of kindness from a total stranger. It had to be part of the aloha spirit that Meghan had talked about.
As I sipped on that delicious thirst quenching coconut water, I was in no rush to fetch my luggage that was the last one spinning around and around on the carousel waiting for me to rescue it.
I wanted to savor this moment. And savor it is exactly what I did…
Continuation – D is for "Diamond Head"
All Rights Reserved ©2017 Marquessa Matthews.
If you liked this piece and want to see more like it, please click on "Like" and/or "Comment" below and share with others who would also enjoy it. I plan on making this story into either a short story or a novella so you can sign up for my mailing list here to get the latest news on when it is completed.
Save
Save
Save
Save
Save
Save
Save
Save
Save
Save
Save
Save
Save
Save
Save
Save