"If I can do the trail with this cane, you can do it too. You can't navigate through life giving up before you've even given it a try. Believe me, I've been there and done that…"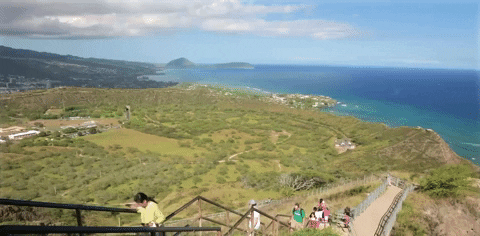 I can't do this.
If I had done the proper research, I would have skipped Diamond Head Monument Park from my list of things to conquer.
I was already sweating bullets from the heat and the walk from the bus stop, up through the Kapahulu tunnel and to the admission entrance where I paid my $1.00 to get admission.
I was prepared with my camera since Meghan had boasted about the breathtaking views of the eastern edge of Waikiki's coastline from the Diamond Head Crater summit but the more I read through the brochure that I had picked up at the gate, the more I was convinced that I couldn't tackle the trail.
I already wanted to faint at the thought of steep heights and 99 stairs along the way. And even if I managed to make it to the summit, I'd embarrass myself when I wouldn't have the energy to get myself back down.
I sat at a picnic table near the water fountains and restrooms facilities to catch my breath and people-watch as I downed my bottle of water. While throngs of tourist couples and families with children had smiles on their faces looking anxious to get started on their journey up to the summit, I was trying to guesstimate when I could the next city bus back to Waikiki. Everyone had someone, except me. I suddenly felt pathetic at being alone and not having anyone to share this experience with.
Maybe if I had gotten myself back on the dating scene soon after the divorce, I would have been with someone special by now.
I had probably missed my opportunity at love and the few men I had met online had all been less than desirable. They all seemed to be a slight variation of the man who had divorced me. Men of my own age wanted young, healthy and baggage-free girls, not older, dying and jaded like me.
Yeah, maybe if I had started dating sooner, I might have been remarried with the support of a man to help me through all of this.
Maybe I had spent too much time enjoying the delicious feeling of being free from the suffocation of a man who required that I fulfill his every need. Or maybe I had just been scared to venture down another path of love gone wrong. Finding love was irrelevant now.
"Missy, you look like you're having second thoughts."
The voice came from the picnic table next to me and when I looked over, I noticed an old sun-kissed woman smiling. She had a handful of teenage girls with her and I assumed that they were her grandchildren.
I smiled back and nodded.
"You guessed right." I held the brochure up. "99 stairs that I'll have to do twice? I'm not in shape for it. I can't do it."
"Of course you can do the trail. I'm sure that you can do anything you put your mind to."
I shook my head.
"No, not this time around."
"Don't tell me that you came all this way to let a little mountain trail get in your way of seeing the beautiful views from the summit? It's worth it, believe me." Her tone reminded me of how my adopted grandmother spoke to me as a child, a tone that meant 'don't argue with me because I know better than you'.
I looked to the start of the trail and back at her.
"Maybe but I'll just have to do when I'm in better shape. It will give me an excuse to visit Hawaii again," I  joked but it fell flat for both of us. I knew very well that I wouldn't be back in this lifetime.
The old woman cocked her head to the side and gave me a serious look.
"Just from the look on your face, I can see that you have the weight of the world on your shoulders." My eyebrows raised with surprise. "There's no time like the present to do what you came here to do. Don't wait Missy. Life is short and great opportunities don't present themselves twice."
The old woman braced herself against the table and stood up. One of the teenage girls promptly handed her a cane and she made her way over to me.
"See this cane? I've had it for years and if I can do the trail with this cane, you can do it too. You can't navigate through life giving up before you've even given it a try. Believe me, I've been there and done that." She pointed out two women who looked slightly older than me exiting the restrooms approaching us.
"These are my two daughters, Halia and Akela." The two women smiled and said hello. "And this is my new friend…" she waited for me to fill in the blank.
"Kate. My name is Kate."
"You look more like a Katie to me. Katie is going to be joining us on the trail," she announced to her daughters.
My head snapped to attention.
"Oh…uh…You don't have to do that!"
"I don't do anything that I don't want to do Katie. Let's get you up this trail."
"But…"
"No buts. My daughters, my granddaughters and I do the trail once every few months just for the fun of it. You know, get them away from all that stupid technology and back to nature for the day."
I tried one last ditch attempt at weaseling myself out.
"I don't want to slow you all down…I may need to rest along the way."
"We are never in a rush dear. We always take our time and stop when we feel like it. We're well-equipped with snacks and water. Come on, let's get out of this crater and up to the summit."
I had no excuses left and thanked them for letting me tag along.
"Mahalo, Katie. It's our pleasure. You'll see that the journey was well worth it. And you can call me Gran."
As I followed along and joined in on their family banter, I shook off my worry. At least if something went wrong, I wouldn't be alone.
What did I have to lose? 
Not a damn thing.
Continuation – E is for "Earth"
All Rights Reserved ©2017 Marquessa Matthews.
If you liked this piece and want to see more like it, please click on "Like" and/or "Comment" below and share with others who would also enjoy it. I plan on making this story into either a short story or a novella so you can sign up for my mailing list here to get the latest news on when it is completed.
Save
Save
Save
Save
Save
Save
Save
Save
Save
Save
Save
Save
Save
Save
Save
Save
Save