"My heart and soul were already missing pieces and with nowhere to go fast, I had no choice but to listen…"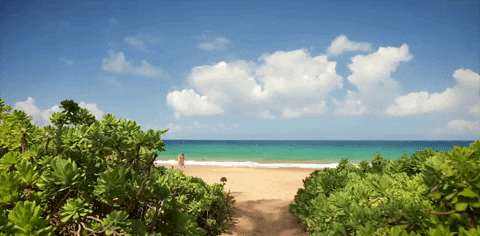 I never realized how hungry I was until I wanted to taste Galen.
How long had I been starving for this kind of connection with a man like him?
 Forever.
The malasada had opened up my appetite and the thought of Galen's sugary lips on mine ignited my entire body. But just as quickly as our lips barely touched, Galen slowly drew away.
"We shouldn't," Galen groaned and closed his eyes.
My heart dropped into my stomach. I felt like a fool as I suddenly realized that he had never really made any explicit advances at me.
That's what you get for throwing yourself at him. Was I that out of practice that I no longer knew the difference between friendly and flirty? Maybe Galen isn't even interested in women…
"Uh, no…I'm the one who is sorry," I muttered under my breath, shifting my body away from his. As a distraction, I grabbed another malasada, took a big bite and turned my red face away. I kept my eyes focused on the sun worshippers and swimmers on the beach from our vantage point.
"I shouldn't have done that. I had this all wrong."
I could feel Galen staring at me.
"Katie, you haven't misjudged anything. I am…I mean…I do want to…kiss you. You're so damn sexy that holding back has been killing me."
Galen's "damn" took me by surprise and forced me to look at him.
"I think that "damn" is the closest thing to profanity I've heard you say since we met. I was almost ready to think that you were beyond perfect."
"I'm very, very far from being perfect Katie and that's why I didn't want to ruin this connection in my na'au that I've had from the moment I saw you."
"Na'au?"
I couldn't keep up with all these new words he kept peppering into our discussions.
"Na'au is like your gut, your chi, your soul – the place where you just "know" things and where you keep your life experiences. It's kind of like what I was saying about faith."
Galen closed the distance between us and he was quiet for a long moment. "But I do have a confession to make."
My heart stopped cold as I waited for the shoe to drop.
Yeah, I had gone and opened up myself and now he was going to drop a bomb on me…How freaking wonderful.
"You know what Galen? I really don't want to know!"
I scurried angrily to my feet, ready to storm away but quickly realized that I had no place to go. I had no clue where Galen and I were and we had driven in his car.
I was stranded.
With a deep breath, Galen reached out from where he sat and held onto my hand.
"It's not what you are thinking! It's just something that I wanted to tell you since we first met…"
My heart and soul were already missing pieces and with nowhere to go fast, I had no choice but to listen.
"I knew who you were the moment I saw you sitting by the pool that day."
"What? What do you mean?" Now I was totally confused.
What was he talking about?
"When Jennifer texted that she had given my number to a woman, I had a vision in my head of what that woman would look like. Jennifer barely described you but you were exactly as I had envisioned. I immediately knew that you were her."
Galen blushed slightly, letting me know that it was a compliment. I felt relieved.
"So why didn't you say something before?"
"You left so abruptly that day at the pool that the chance slipped away. Then, when we had dinner, I felt stupid saying anything "after the fact". And as the days went on, it got harder and harder to say anything at all and so I just didn't."
"Well, you and I have very different ideas on what qualifies as a confession!" I shook my head. "Why say something now?"
"It was nagging at the back of my mind and since you are always so suspicious, like right now, I wanted to be upfront with you before…this…we…went any further."
"Suspicion has become a part of me."
Galen pulled firmly on my hand, coaxing me to sit back down.
"Please don't be suspicious of me. I know that we are all a product of our pasts." Galen maneuvered himself to sit directly in front of me, took both of my hands in his and looked up at me with those blue eyes. "And I promised to tell you about mine. Let me do that now, okay?"
I nodded, sat down and waited to exhale until Galen told me what I was dying to know.
Continuation – O is for "Ohana"
©2017 Marquessa Matthews.
If you liked this piece and want to see more like it, please click on "Like" and/or "Comment" below and share with others who would also enjoy it. You can also sign up for my mailing list here to get the latest news from me. 
Save
Save
Save