"Galen laughed and continued his slow exploration. I squirmed with pleasure as he switched his attention to my other thigh. Then, with both hands, he reached up and slowly peeled my…"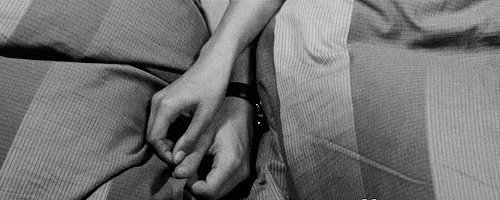 Like the first time we kissed, I realized again how hungry I was for a true connection with a man like Galen.
I'd let myself starve for too many years and I needed to end my famine tonight.
The ride was quiet and Galen kept his hand on my thigh the entire time as he expertly negotiated the twists and turns of the road back to the condo complex. Once there, he jumped out, sprinted to the passenger side and opened my door for me. He gave me a lingering look and then whispered against my lips.
"Your place or mine?
"Yours," I whispered back.
I didn't care.
With his arm wrapped around my waist, we slowly made our way to his place and when Galen quietly shut the door behind us, my fears were left out in the hallway. I probably should have been scared but I wasn't and I knew that I wouldn't be. Not with him. I had complete faith and trust that I was safe with him.
"Take a seat while I put our food away sweetheart."
I sat down on the couch and watched him rearrange a few items in the fridge to make room for our brown bags from the restaurant. Galen grabbed a bottle of white wine, two glasses and sat down next to me. He filled both, handed one to me and we toasted.
"Here's to good food to nourish the body and sweet love to nourish the soul…"
"We skipped the good food part," I reminded him, taking a sip from my glass. "And that "sweet love" sounded just a bit corny."
"We can get back to the food later." Galen laughed and gently took my glass away, placing it on the coffee table. "And I've been called worse things than corny in the past so I'll take it."
Galen pulled me against his chest and we leaned back into the couch. The feeling of comfort I felt in his arms was unreal. As we just sat still holding each other, my eyes trailed across the array of colorful pictures that decorated his living room walls.
"Those are beautiful. Where did you buy them?"
Galen kissed the top of my head. "I didn't. Those are photos that I took the first time I ever came to Maui. I had some of them blown up to larger sizes."
I sat up with amazement. "You never said that you were into photography!"
"Well, it's not a passion for me like it is for you. Which of them do you like the most?"
I scanned the wall and pointed to a close-up of a male hand making a gesture.
"That one. I like how the close-up shows the hand holding sand and the ocean in the background. Whose hand is that?"
"It's mine. I'm giving the shaka sign. I took that photo as a lark after a day of surfing with some friends and strangely enough, I liked its simplicity too."
I was talking way too much, the way I always did when I started to get nervous. Galen cupped my face within both of his palms.
"You are simply beautiful," he whispered onto my lips. "Don't be nervous. We don't have to do anything that you don't want to."
I took a deep breath.
"That's the problem. I want to do everything with you Galen," I muttered against his lips, offering them to him. Boldness had completely taken over me. "And one night will not be enough."
I was giddy as we explored the deepest corners of each other's mouths. This kiss was unlike all of the others we had had before. I could literally feel my body melting. I was ready for Galen to take me to unworldly heights that no other man had managed to take me before. And we were still fully clothed.
When we broke apart to catch our breath, Galen's blue eyes turned dark with desire. Our slow burn was quickly sizzling. Our lips were just inches away from each other again and his hot breath intermingled with mine. Galen slowly slid his fingers up my outer thigh and suddenly stopped.
"Are you sure that you want to do this?"
"Yes."
I don't care that I'm dying. I just want to live right now and make love with this man.
My hands instinctively reached for his face to take full advantage of his full open lips. When I pulled Galen in for another deep kiss, he gently maneuvered me backwards onto the couch and focused his kisses on my neck and behind my ear…my kryptonite.
He unfastened the length of my button down dress, exposing my lacy bra and Brazilian panties that he took a long moment to admire. I opened my mouth to say something but when Galen licked and kissed the length of my neck, down to my breasts and then to my stomach, I didn't have the strength to string two intelligible words together. Somewhere along the way, my bra fell to the floor.
"God, you are beautiful Katie."
Galen wedged his knees between my legs and slipped a little lower down. I couldn't help but let out a deep groan when he began kissing my inner thigh. I quivered uncontrollably at his touch.
"A little ticklish, aren't you?"
Galen laughed and continued his slow exploration. I squirmed with pleasure as he switched his attention to my other thigh. Then, with both hands, he reached up and slowly peeled my panties over my hips. Once my panties had joined my bras on the floor, Galen grabbed hold of my calves, pulled me lower down on the couch and covered his body with mine.
Only one of us was caught in a lie of omission and I was prepared to pay the price. I was deciding to give myself this night with him. There was no turning back for me now.
"Take your clothes off," I told him.
Galen did as I asked, our eyes never leaving each other. Soon, all his clothes were puddled onto the floor and mingled with mine. When I slide my hands up the length of his chest, he held onto my wrists and placed them over my head, making it clear that he was going to take control of how this night would unfold.
"Let me take care of you tonight."
Galen looked down at me with such intensity that I had to close my eyes.
I sighed.
"I'd love that."
Continuation: T is for "Tattoo"
©2017 Marquessa Matthews.
If you liked this piece and want to see more like it, please click on "Like" and/or "Comment" below and share with others who would also enjoy it. You can also sign up for my mailing list here to get the latest news from me. 
Save
Save
Save
Save