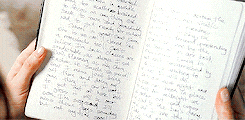 I know that journaling is a great thing to do.
A place to jot down things you don't want to forget and even solve issues you may be having.
I loved having a diary as a kid until certain circumstances forced me to start keeping my thoughts safely bottled up in my head instead of on the pages of a notebook.
I've realized that journaling is not just about "Dear Diary" – it can be anything I want it to be.
Some days, it's simply emptying my brain on Morning Pages or jotting down things that I am grateful. Other days, it's a list of tiny things to celebrate or a list of things I aspire to accomplish during the day.
Fifteen minutes a day before getting out of bed has been a great way to start the day with a clearer mind and lighter spirit.
If you try it, you might be surprised at how much you like it.
Do you keep a journal?
Disclaimer: I have no copyrights to the song and/or video and/or hyperlinks to songs and/or videos and/or gifs above. No copyright infringement intended.