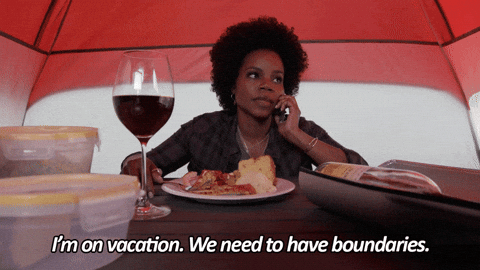 I'm sure that I'm not the only one who bends their boundaries depending on the circumstances.
Yes, being flexible is important but bending too many boundaries one too many times can be detrimental.
Like offering to be available for work emergencies when you are officially on vacation or allowing the neighbors to leave their kids with you for the umpteenth time (under the guise of a play date) while they are off doing who knows what…
I'm sure that a number of ways that you bend your own boundaries comes to mind.
I've started jotting down the problems that occur or how I feel whenever I don't stick to my boundaries and just the act of writing my boundaries down is serving as a great reminder of why I need to stick to them.
Do you always stick to the boundaries you have set?
Disclaimer: I have no copyrights to the song and/or video and/or hyperlinks to songs and/or videos and/or gifs above. No copyright infringement intended.