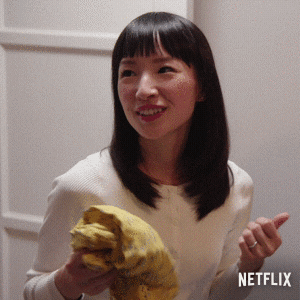 Am I the only one in the entire world who is unimpressed by Marie Kondo?
Don't get me wrong, I have nothing against Marie. I'm just old enough to remember Peter Walsh who preached the same approach back in the late 2000s during "The Oprah Winfrey" segments.
Then again, everything old is new again, isn't it?
I was into the decluttering arena long before I knew anything about Peter though.
Even as a kid, I needed for the environment around me to be decluttered and organized otherwise I couldn't concentrate and write. To this day, keeping my space as feng shui/clutter-free possible helps tremendously when it comes to keeping my creative energy. The ideas are free to flow, the space is energized and everything is just zen.
These days,  I'm more into dostadning, a Swedish hybrid of the words for death and cleaning. It sounds totally morbid but it encompasses the same Marie/Peter methods with an added component – getting rid of excess to lessen the burden on your loved ones after you're gone.
When I look at my belongings with dostadning in mind, I'm ruthless.
But I will thank Marie for one thing. Because of this KonMari craze, the thrift stores are OVERFLOWING with great stuff for cheap that "spark joy" and that "make my heart sing".
Just look at this almost brand new book I bought for $1.25 that I had planned to buy at regular price:
[image removed]
Don't believe me about the thrift stores? I dare you to visit your local one. Just be sure to declutter first! 🙂
M  xoxo