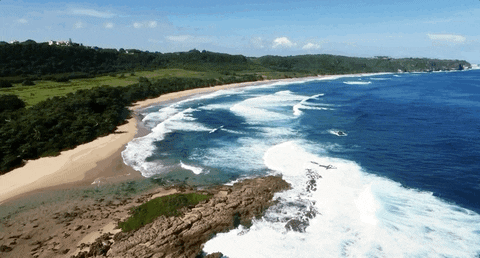 I think I fell in love with The Island of Enchantment before the plane even landed.
Just the sight of all that beautiful ocean blue water from my window seat was enough to excite me. But the moment I exited the airport and felt myself enveloped by the humid salty air, I knew that I'd found a little slice of heaven I would just have to call mine.
There was this indescribable vibe in the air that I couldn't describe and it just felt as if I was "home", like in my soul. Maybe strange but very true.
This is also the reason why this little treasure will be the backdrop of some of my future stories when I can get my sh*t together.
Since that first time all those years ago, I've been visiting the island on average once a year, sometimes even twice when if my schedule and personal commitments permit. The pandemic messed up my 2020 plans to spend an entire month but my fingers are crossed that I can do that next year.
Of course, the fact that I always stay at an apartment-style location directly on the beach and within a 10 minute walk to a large grocery store and the airport enhance the situation exponentially. I'm winning all the way around.
I've visited so often that I should have been an expert on all-things-PR but I am not. I used to be embarrassed by that because I haven't done as much exploring as people think I should have done by now. But a long time ago, a very wise person told me that shoulds are the pressure you put on yourself due to other people's expectations so forget about the shoulds.
That advice was on point.
The challenges of traveling with others who may or may not have the same interests as me and the safety concerns to keep in mind when I travel solo always factor into the "travel equation" of the choices I make. It was what it is and I roll with that.
Ponce, Cabo Rojo, Culebra are just some of the places I look forward to discovering when the time is right.
Otherwise, I'm content to just "be".
[These are my photos below]
I'm more than content to roll out of bed in the morning and go for a walk on the beach before the rest of the world wakes up...
I'm more than content to return after my walk, sip on local coffee and watch the beach come alive…
I'm more than content to chill under a palm tree with a novel in my lap and have my soul soothed by the sounds of the ocean…
I'm content taking the local city bus and spending the day roaming the streets of Old San Juan…

and taking pretty photos when I discover good shot…
and people-watching while having a simple dish of habichuelas guisadas at a local cafe to replenish my energy…
No matter what I do in PR, it feels like "home".
So that's the end of today's challenge question.
Have you ever felt that way about a place you have traveled to? Share with me in the comments!

Bisous,
M  xoxo