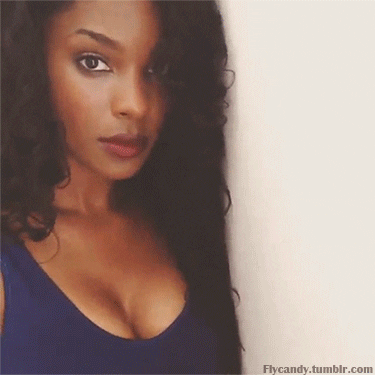 Please don't think I'm creepy but I can't help it.
She moved in last week and I have been watching her almost every single morning. It's not like I go out of my way to do it. Her bedroom window and balcony is directly in line with my French doors and even though there is quite a distance between the two houses, I still have a good view from the kitchen island as I drink my coffee.
She has wrecked my morning routine. After having breakfast with Nate and then sending him off to get ready for the day with niñera Alma, I used to spend that time meditating.  But instead, I am observing her, wondering where she comes from and for how long she will stay at the Wilson's rental home. I am intrigued and not just because she is cute. And curvy in all the right places. There is just something different about her.
In the morning, her black curls suffer from a serious case of bedhead and she glides around barefoot in some kind of over-sized T-shirt, starting her day with a large mug of coffee on her balcony and looking out into the distance until it is empty.  What she doesn't realize is that we are having coffee together.
When she is through with her coffee, she disappears for a while and reappears with a towel wrapped around her wet hair, a bathrobe hugging her body. She turns on some music but never loud enough for me to decipher what is actually playing. A smile on her face, I can see her dancing and twirling, from her bedroom to the balcony and back. I chuckle as she brushes her teeth and suddenly stops to use her toothbrush as a microphone mid-balcony. She never glances around to see if anyone is watching her and even at the odd occasion when joggers pass by at that early hour, she doesn't miss a beat. She waves, they wave back and she continues dancing.
She doesn't seem to have a care in the world. And just watching her somehow makes me happy. I am more than intrigued and haven't felt that way for a long time, probably since being with Nate's mother.
I know that she isn't a regular tourist or vacationer.  Dressed quite chic and her wild curls tamed into a tight bun, she would disappear into the back of a black town car at 8am and resurface around 4pm.
Where is she going with nothing more than a fashionable purse everyday?
Since I have been spending full days in the studio on the east side of the house, I see the same town car pull up to the main community gate and so that's how I know she gets back around 4pm…It's not like I am some creepy dude with no life next door. But that's what you were thinking, right?
From the heavenly scents coming from the Wilson's house around 5pm everyday, I know that she is a good cook.  Concoctions that required buttery fried onions, freshly diced tomatoes, pungent herbs…Definitely a  woman who can handle herself in a kitchen and likes real food. And from the healthy curves she has in all the right places (I said that before, didn't I?), I can tell that she appreciates a good meal. She isn't one of those I-will-just-have-a-salad kind of girls, she is a meat and potatoes/rice and beans type of woman. A woman after my own heart.
I noticed a few days ago that she takes walks on the beach at sunset, adorned in workout clothes and ear plugged into her cell phone tight within her grasp.
I need to meet her and somehow invite her over for Christmas dinner with us.

And that's when I decide to take Nate for a walk before his bedtime to accidentally on purpose bump into her.
All Rights Reserved ©2017 Marquessa Matthews. Save
Save
Save
Save
Save
Save
Save
Save