A strong cup of hot black coffee was the only thing I wanted until I saw her.

Like everyone else standing in the queue, I needed my morning caffeine fix so I decided to stop at the first coffee shop on my way to the office.
For the first time that week, I was actually early for work. But that was only because Brittany had kept me up for most of the night and I had never really gone to bed. When I'd picked her up from the airport the night before, she had wanted to make up for lost time, lots of lost time. I was glad that I had no meetings that day because I knew that when the wave of tiredness eventually hit me, it would hit hard. Right then, all I wanted was to sit and enjoy my coffee in peace before starting my work day.
With my cup in hand, I scanned the coffee shop for an empty table but there were none to be found. If I really wanted to sit, I'd have to do it by joining someone at their table. I took a minute to assess my situation.
Two nerdy guys sitting in the far corner with their noses almost pressed against their laptop screens?
A gaggle of loud teenagers who looked too young to drink coffee?
No.
And no.
Three cute but young twenty-something women in a corner booth giggling and giving me the flirting eyes?
I smiled at them and they all smiled back.
Yes, sitting with them was the only way to go.
Until my eyes landed on her.
Sitting alone at a table for two, dressed in black yoga pants, wearing a bright mauve T-shirt with "Au Naturelle" printed on the front and a black hoodie, she stood out among the business attire and teenage trendy school wear.
Her dark curls were in a messy ponytail, a pair of glasses dangled dangerously from just above her forehead and she was sipping from a large mug as she flipped through a newspaper. The way she slowly took her time to peruse the page and the fact that she had a mug instead of a to-go cup meant that she wasn't going anywhere in a hurry.
I watched as a smile spread across her face at whatever it was that she was reading. When she picked up her cell to check the time, she glanced around just enough for me to get a perfect view of her face.
I immediately wanted to know what shade of brown her eyes were and what I would need to do to kiss her.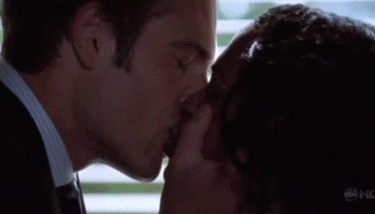 As I passed my "threesome" with a nod of acknowledgement, I noticed their looks of disappointment.
But I was on a mission.
I walked up to her table and positioned myself in such a way for her to notice me. But when she didn't, I had no choice but to break the ice.
"Hey! This place is pretty crowded. Would you mind if I sit with you?"
She graced me with the warmest of warm dark brown eyes and her smile could have lit up the entire coffee shop.
"Be my guest. But you might regret it…"
She motioned for me to sit and I promptly accepted.
"With a smile that beautiful smile, regret would be impossible."
©2016 Marquessa Matthews. All Rights Reserved.