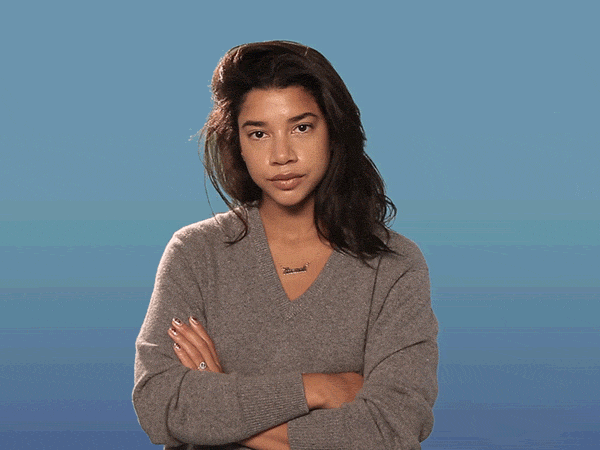 (Repost)
Like this woman above, I'm already rolling my eyes at the fact that I feel the need to write the following "disclaimer" as an intro to my post but here goes:
This post is NOT intended to call anyone "ignorant". This post is to raise awareness about how uncomfortable people can feel when seemingly harmless things are said and done to them, oftentimes by people who don't mean any harm and don't realize how their actions are being received.
But when we know better, we do better right?
That is the objective of this post and the reason why I'm bringing this to you.
I'm climbing off my soapbox now…
***
In my "Life of Pie" – 12 Totally Random Things You Never Needed To Know About Me" post, I told you that sometimes people I barely know have gotten into my personal space and have touched my "_____", taking me off guard before I could even react.
In that post, I purposely left it blank so that you could guess. Some of you guessed right and some of you guessed …not right.
Well, as luck would have it, someone who knew exactly what I was referring to in that post forwarded me a real-life example of my #12.
Take a look:
Disclaimer: I have no copyrights to the song and/or video and/or hyperlinks to songs and/or videos and/or gifs above. No copyright infringement intended.
I cringed the moment I saw that outstretched hand…
It boggles my mind why some people think that it's "okay" to cross that personal boundary, physically touch someone they may barely know and even sometimes go so far as to glide their hands over another person.
How would those same individuals like it if someone they barely knew stroked them?
I don't care if the gesture is meant to be a compliment.
Do not touch me without my permission.
Yes, that woman looks amazing at 53. And I'll even let that co-host's words slide this time (because it's an entirely different conversation).
But the touching?
Uhhhh…hell no, no, no.
There are no ifs, ands or buts about it. Don't do it. Not everyone will be as polite as the woman in this video. Recoiling like a snake while giving you my "subway" face has been my go-to move for years now because it's been much more effective than being "polite" by pretending to be okay with it.
Oh…the stories I could share with you but I won't.
As food for thought, I'm leaving you with a link to "21 Racial Microaggressions You Hear On A Daily Basis". If you don't have time to read, the photos speak volumes.
Microaggressions are not limited to "race". There are many that abound related to gender and sexuality too…
Okay, I'm climbing off my soapbox now. My rant is over. 🙂
All Rights Reserved ©2017 Marquessa Matthews

Save